Choose a category
Cracking and misalignment of the rollers
One of the major problems in the manufacturing of cement has always been maintenance and efficiency of the kilns. These are large, round, fabricated steel tubes, up to 4.5-6 meters in diameter, and somewhere between 45-150 meters long. Since they are lined with fire- resistant refractory brick, constantly rotating on rollers (spaced approximately every 15 meters), and heated internally to 1450 °C, they are susceptible to serious operating and maintenance problems. The longer the kiln, the greater these problems can be, especially with respect to cracking and misalignment of the rollers.
Dedicated electrodes and strict procedures
High pressures and contact stresses acting on the tyre surfaces during service can cause surface cracking and the detachment of large splinters. The excessive cost of a kiln tyre and long downtime period results in the need for a successful weld of the splinter back to the tyre. Traditional pre-heat is usually impractical due to the mass. Success is possible with the combination of a local heating campaign, our specialty low heat manual metal arc welding electrodes and an exact procedure. Significant cost savings can be established and only a short total downtime will occur.
Pads are also subject to cracks
The kiln tyre pads are bolted to the kiln shell and locate the kiln tyre in the correct position. Cracks can occur in some of the welds on the pad sections. These cracks could cause loosening of the pads and expensive kiln tyre damage. With Castolin Eutectic know-how and products, we can remove the cracks using manual metal arc gouging giving a successful and secure repair.
Latest solutions for abrasion and impact wear
Chutes build from superior wearplates
Our wear protection experts design and build chutes and liners to your specifications
• Chutes build from superior wearplate, expertly placed to resist combinations of wear.
• Fully equipped workshops with the latest technology
• Rigid quality control procedures
• Ready-to-install chutes save you time and money
Protection of chutes against linear erosive wear
XuperWave-S CDP® Wear Plate
Extend service life for chutes with XuperWave-S sinus wave pattern
Ideal for chutes exposed to fine particles at high velocity
Maximum protection against linear erosive wear
Prevents fine particle tracking at points most susceptible to wear such as the stress cracks and weld bead overlap
Reduces wear by up to 30% over conventional straight weld bead pattern
Discover other industries
Sharing our welding, brazing and coating know-how
Brochures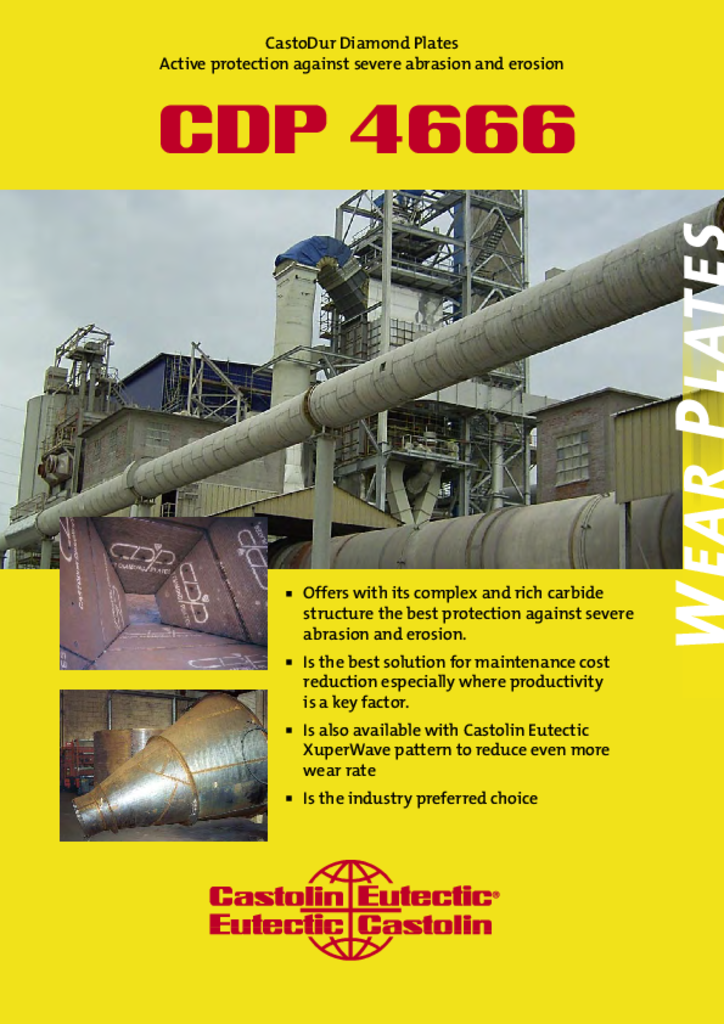 CDP® 4666
CDP® 4666 is a composite material made of a structural steel backing and a hard weld surfacing, corresponding to DIN 8555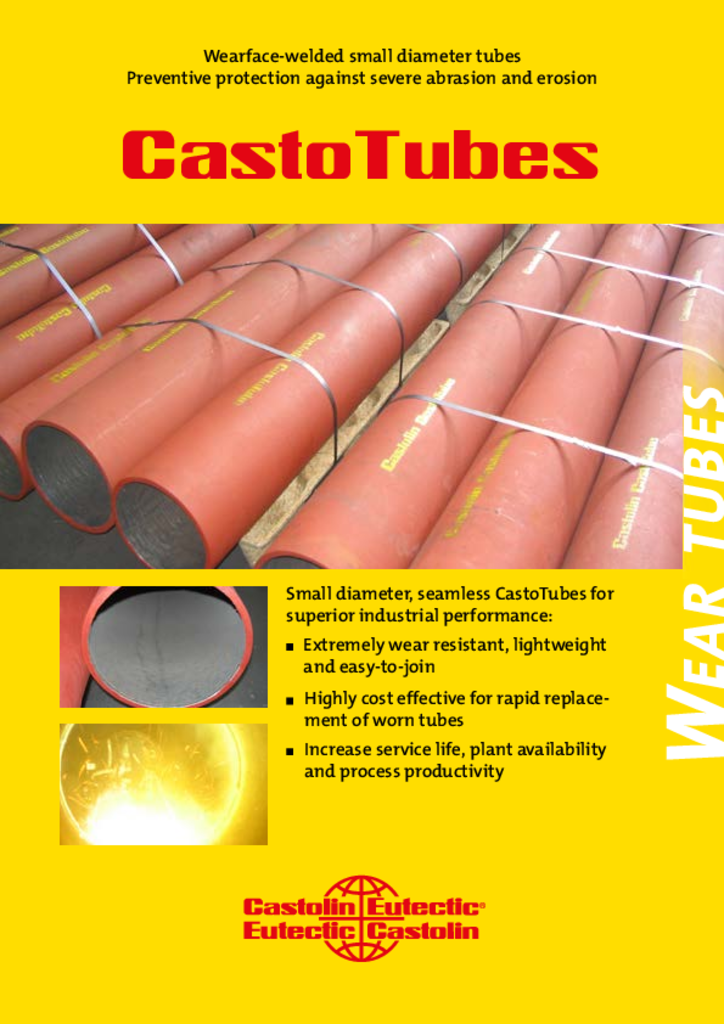 CastoTube®
CastoTubes® are Castolin Eutectic's response to the market request for erosion-resistant pipe sections and elbows.