Choose a category
How are glass containers made
All glass containers are formed in two stages. The piece of glass, known as a 'gob' is preformed in a blank mould by either blowing to shape or pressing with a plunger. The 'gob' of glass is cut to the correct shape and weight in an overhead furnace and gravity fed into the blank mould. The finished glass container is then blown in the finished mould. Containers made by blowing the preform and the final shape are known as blow-blow production. Containers made by pressing the preform with a plunger and blowing the final shape are known as press and blow production. Glass forming machines are made in several 'sections'. Each section comprises up to four moulds and are known as 'single gob', 'double gob', 'triple gob' or quad gob.
Our long experience with Glass mould repairs
Coatings with in-house powders
The traditional material used for the production of glass container moulds is cast iron. Castolin Eutectic's range of powders for Spray/Fuse, Eutalloy® RW and PTA have all been developed to coat the full range of different cast iron alloys currently used within the industry in all the required hardnesses. The use of Bronze, particularly for Blowmoulds, Bottom Plates and Neck Rings, has become increasingly popular as the glass manufacturers seek to increase the thermal conductivity of the components and therefore the speed of the process. Castolin Eutectic's range of PTA Powders have been specifically developed to weld and protect Bronze components in a range of hardnesses. Similarly, the range of Eutalloy® RW powder are equally suited to coating steel as they are traditional cast iron.
Increase life up to 4 times
Mixer Pan and Mixer Lining
Protect your investment, increase life up to 4 times by lining your mixer with our CDP® wearplates.
Ready-to-install mixer pans produced to customer specifications from complex chromium carbide wearplate.
Minimize downtime and reduce maintenance costs.
Available in thicknesses ranging from 1/4" up to 3/4"
Ensure greater productivity and higher quality
Although Ni-Hard cast iron mixer paddles resist abrasion, they are fragile and prone to breakage.
Castolin Eutectic produced mixer paddles made from our complex chromium carbide wearplate offer 200% better durability than Ni-Hard.
Overlay the edges and other high wear areas with a tungsten carbide alloy for unequalled wear protection
Screws: damage to flights and shafts
Transport screws are widely recognized as one of the most efficient systems for material handling. In addition to conveying of solid, semi-solid, wet and sticky materials, they are also used in production processes for drying, cooling and mixing. These processes cause extensive wear damage to the screw/auger flights and the shafts. Equipment fails, causing loss in productivity and expensive repairs or the need for replacement parts.
Advanced technologies for abrasion, erosion and corrosion wear
Protected transport equipment saves you time and money
•    Our wear experts repair and protect screws and augers to extend service life
•    Via thermal spray coatings, specialty hardfacing alloys or CDP® wearplates
•    Multiple coatings applied to provide the best solution to combinations of wear
•    Job performed in our fully equipped Service workshops or on-site
Discover other industries
Sharing our welding, brazing and coating know-how
Brochures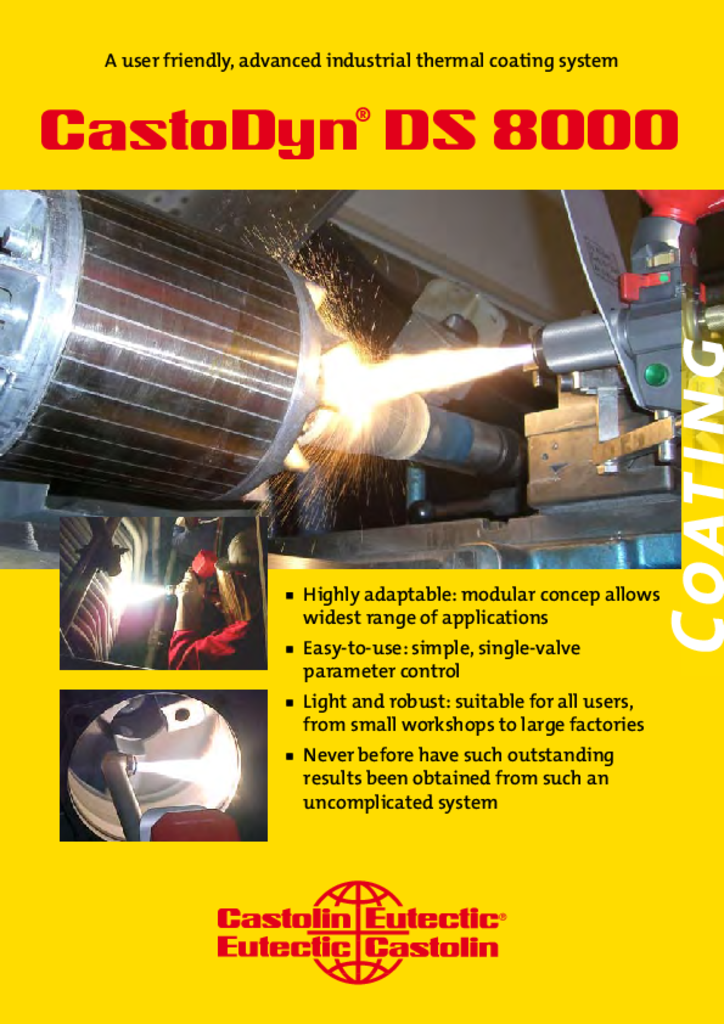 CastoDyn DS 8000 Kits
A user friendly, advanced industrial thermal spray coating system