New Service
January 23, 2023
Wear protection solutions cut cement plant downtime
The wear of vital machine parts is a significant cost for the cement industry, not only in terms of repairs, replacement and ongoing maintenance, but also in lost production – millions of dollars per day in some cases. This article outlines how the Castolin Eutectic wear protection solutions can make a major contribution to uptime and productivity in four main areas: the vertical roller mill (VRM), roller press rollers, kiln tyres and fan refurbishment. 
VRM – fast response and extended life expectancy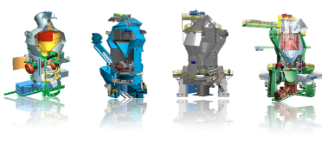 A VRM crushes materials into very fine particles 
A key concern for any cement plant is the availability of the critical processing equipment, especially the VRM. Downtime during refurbishment is a major cost, and there is continual pressure to reduce this time and permit the plant to return to full production status. Castolin Eutectic responded to these challenges by reviewing the entire on-site welding operation to develop the Advanced High Speed Repair Concept. Its team delivers this through advanced welding equipment technology, application-specific welding consumables, advanced automation and data logging, multi head control, modern logistics and a dedicated VRM intervention team. This service provides the cement industry with the highest grinding performance and the fastest refurbishment speed - 36 hours for 3 or 4 rolls and a table. In some cases it totally avoids any kiln stoppage if the customer has the capability to store material temporarily. 
Roller press refurbishment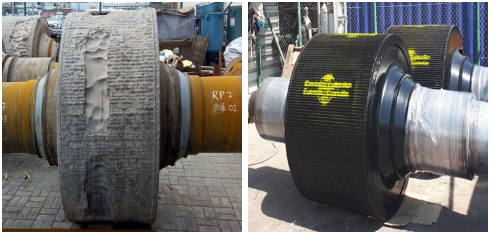 Roller press before refurbishment (left) and after (right) 
The demanding operating conditions subject the rollers to combined pressure, abrasion and impact. The entire roller can be refurbished by gouging out the fatigued material, rough grinding, machining, build-up and hardfacing using special welding wires and final stress relieving. The process can be carried out in the workshop or in-situ. 
Kiln tyre splinter repairs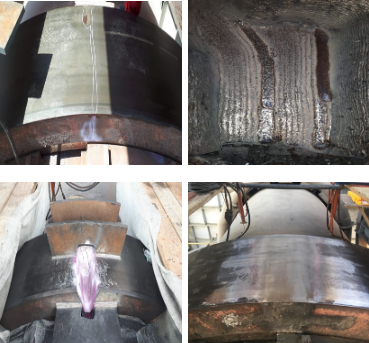 Kiln tyre repair 
A persistent challenge for cement manufacturing is the maintenance and efficiency of the kilns. These are large, round, fabricated steel tubes, up to 4.5-6 meters in diameter, and between 45-150 meters long. Since they are lined with fire-resistant refractory brick, constantly rotating on rollers (spaced approximately every 15 meters), and heated internally to 1450 °C, they are susceptible to serious operating and maintenance problems. The longer the kiln, the greater these problems can be, especially with respect to cracking and misalignment of the rollers. 
The rotary kiln is supported on the rollers by a large steel tyre. The high pressures and contact stresses acting on the tyre can cause surface cracking and the detachment of large splinters. The high cost of a kiln tyre and the long downtime associated with replacement has resulted in the development of a process to weld splinters back to the tyre. Traditional pre-heating is usually impractical due to the large mass. Successful welding is possible with the combination of a local heating process, specialty low-heat manual metal arc welding electrodes and an exacting procedure.  
Fans refurbished to better than new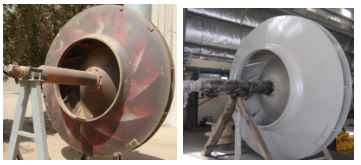 Refurbished fan (before and after)
In common with any high-speed rotating equipment, fans must be perfectly balanced in order to operate smoothly. Vibration can seriously damage important components such as fan bearings and surrounding structures and, therefore, increase downtime and maintenance costs. Once the blades are severely worn-out, airflow dynamics are altered and consequently, the flow rate will be reduced and energy consumption will increase. Using wear-resistant coatings not only extends the fan service life but also saves energy and decreases other component maintenance costs. 
To improve the service life of fans, as well as ensuring smooth operation, a full range of solutions is available. The most common is to use CDP wearplates. They can be utilized as liners or, when mechanical stress is low, even as structural parts. They are regularly used for manufacturing large centrifugal fans and also casings.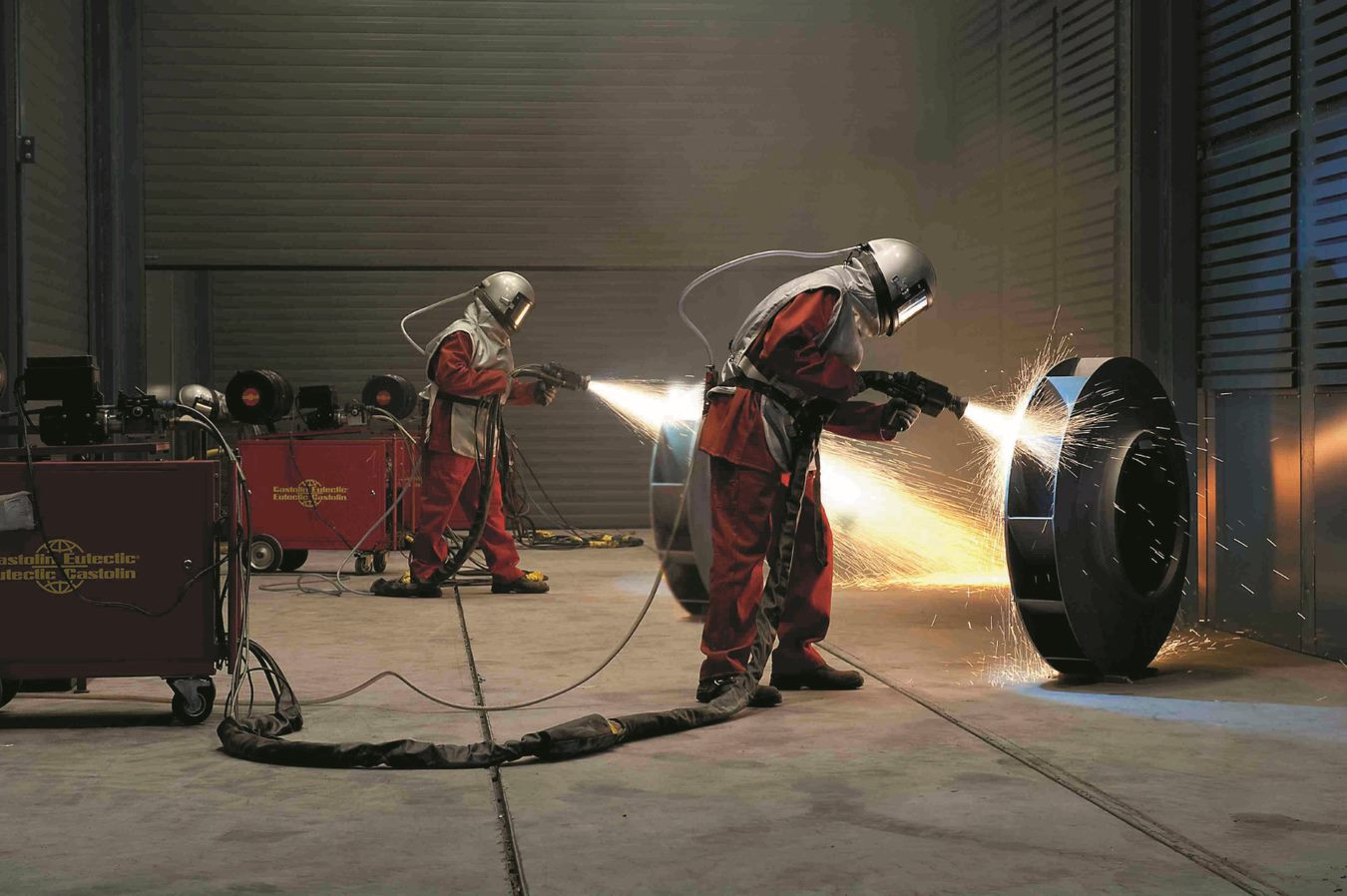 Arc-spray coating of fans
Another technique to extend fan life is arc-spray wear-resistant coatings. These can be applied on thin parts or lightweight fans working in an airflow which is not too heavily laden with particles, but which still require a cost-efficient protective layer. Erosion and corrosion solutions are available for complex geometries such as airfoil blades that can easily be coated in the workshop, as well as directly on-site when equipment needs to be repaired.  
Why replace when refurbishment delivers better results? 
Intuitively, it might seem that replacement of worn out parts is the best option. However, in the cement industry, where uptime is often the primary concern, repair and refurbishment will often prove superior. It is not only a question of providing a faster return to action, using the latest coating technology can also significantly improve operational life, often several times over. The result is greater reliability and the best possible total cost of ownership. 
For more information: https://www.castolin.com/cement 
What's new in the Castolin Eutectic world?
Recent Posts