Choose a category
High abrasion resistant Wear Strips for your critical parts
Bucket loaders protection
Wear Strips (WS) are a composite material made out of mild steel and coated with a thick wear resistant alloy specifically designed to sustain high abrasion. Experience shows that compared to hardened plates, WS resist wear several times better. This allows customers not only to reduce cost and maintenance time, but also to decrease the weight of their buckets by using our lighter solution. This finally improves overall production efficiency. WS are today commonly used to protect earth moving machines buckets, shovels and dump truck boxes. They can easily be bent to fit the part profile and welded on the area in contact with the soil.
Providing optimized solutions to increase machines' service life
Castolin Eutectic experience
Based upon hundreds of successful applications approved by our clients across the globe, we provide optimized solutions using a wide range of products and technologies to combat wear. Our field specialists help customers find the best solutions to extend service life of their machines, which ultimately increase efficiency and decrease costs. For instance, our well-known CDP® wearplates are regularly used to protect large surfaces where standard hardened steel plates do not offer sufficient wear resistance.
A cutting process using powerful rotating tools
Drilling tools work with abrasive materials of different hardness, texture and dimension, like granite, quartz, basalt, gravel, etc. The main functioning of these engines vary depending if the work is done by percussion fragmentation of the compact ground layers that are less cleavable or by drilling and transporting through rotation of the material that is less compact and relatively cleavable.
These percussion tools (rods) generally sustain significant impact and abrasion. The choice of the alloys is therefore oriented to cold working deposits which are strain resistant.
For tools cutting through rotation (auger, drill rod) the type of wear is mainly abrasion combined with weak pressure on the surface. The preferable choice is alloys having  good wear resistance against medium impact and abrasion under weak pressure.
Alloy protection against chocks and abrasion
Each tool is specific and the operating conditions depend on the nature of the ground. Nevertheless, two application possibilities are generally observed:
The wear protection against abrasion with chrome cast iron type deposit alloy in cases where tools are not exposed to high impact.
Often, these tools are subject to impact that damage the protection beads. In this case a low alloy deposit is chosen containing tungsten carbide in a matrix which is less sensitive to impact.
Increase efficiency of your machines
Crushing and grinding operations allow gradual granulometric reduction of the mining ore. The following operations are performed:
Crushing operation that reduces all mine or quarry ore down to a size in the order of centimeters.
Grinding operation that allows reduction down to a dimension near the constitutive grain size of the mineral.
Often, several crushers are arranged in series. The wear of the various components causes the reduction in the machine output. The coating should not only save the part, it should also increase the lifetime and the efficiency of the machine, i.e. increase the quantity of handled material without the need to interrupt production.
Wear protection for vital crusher parts
Used for gravel of medium dimension, wear by abrasion is particularly strong at the cone base (fine particles at the end of the crushing). The coating is made in a circular way, in the direction of wear or by using bosses.
The rotor is the main part of the crusher, it provides the tightening of the beaters with help of the fixing elements. The mechanical welded disks are subject to abrasion due to the action of particles on the outer parts of the disk. A preventive coating is recommended on these parts as well as on the flanks.
Wear backing compounds for cone crushers and grinding mills
Crusher Backing Compounds
MeCaBack® is specifically formulated to be poured easily to fill the void cavity to back wear liners, eliminating gaps, reduce vibration and friction. MeCaBack is easy to use and free of VOCs, butyl glycidyl ether and nonyl phenol, providing an environmental and operator safe product with low odor during installation. MeCaBack backing compound offers fast return to service, reducing downtime while providing the toughest level of support to the wear liner with over 15,000 psi (103 MPa) compressive strength.  This unmatched performance delivers optimal operational efficiency and service life of cone and gyratory crushing equipment used in the mining, mineral processing and aggregate industry.
Drag chain conveyors are ideal to carry material such as wood, coal, lime or waste when a change in elevation is required and throughout very long distances. Unfortunately, the abrasive nature of transported materials negatively affects the equipment service life by
wearing-out the conveyor surface,
which increases the forces required to pull the chain.
Very frequently, high wear appears on the chain path. As a result, the surface is not smooth anymore, forces increase, the chain is damaged and parts must regularly be replaced to avoid equipment failure.
4 times more resistant than traditional hardened steel
Wear Sliding Strips (WSS)
Dating many years back, at Castolin Eutectic we protect our customers' conveyor surfaces with our well-known CDP® wearplates. Premium polished CDP® were also installed in cases where a low friction surface was required. Today, based on a similar concept, we offer the easy-to-install WSS that protect the chain path against severe abrasion and friction. WSS are a composite material made out of mild steel and a specific high wear resistant alloy with low friction coefficient. To ensure good sliding properties and reduce the chain conveyor energy consumption, the strip surface is polished. As a result, our strips are at least least 4 times more resistant than traditional hardened steel. Surfaces remain smoother for a longer period of time which eventually also reduces chain damage. WSS are also suitable for machines that need to sustain high forces and vibrations while working in abrasive environments.
Discover other industries
Sharing our welding, brazing and coating know-how
Brochures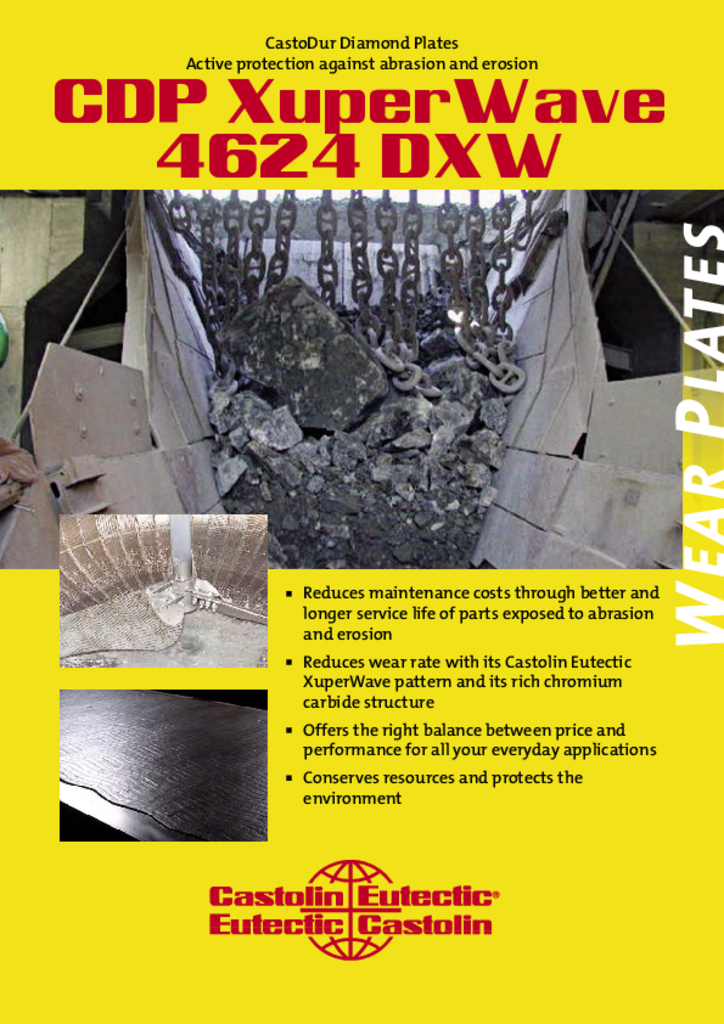 CDP® 4624
CDP® XuperWave 4624 DXW is the ideal wearplate for the application where the right balance between price and service life is required