New Product
February 12, 2021
Launch of upgraded welding equipment: CastoTIG 1611 Advance, XuperMIG 3000 PULSE, XuperMIG EnDOtec-Edition
Castolin Eutectic is happy to introduce this year major upgrades to three of its TIG and MIG welding machine ranges, namely:
1. CastoTIG 1611 Advance
The CastoTIG 1611 Advance is an upgraded version of the tried and proven Castolin Eutectic Inverter technology already in use. Although controlled by a microprocessor, it boasts a compact power source that is ideal for TIG welding.
It can be used on mobile sites for maintenance, joining, and construction-related applications. Weighing only 6.6 kgs, the CastoTIG 1611 Advance is surprisingly compact and comes with a ground cable and robust carrying case.
Some of its advantages include:
Ideal for use in construction and repair works due to its minimal weight and size. Additionally, it consumes minimal power and can also be used with power generators.

The upgraded version is not only remote controllable, but it also comes with an integrated up/down function.

Enhanced spot function intended for seamless stapling.

It is easy-to-use thanks to the presence of a simple touch panel and the accompanying menu guides. The touch panel has a clear, readable digital display, which welders can use to program

Included standard-integrated pulse function meant for enhanced soldering pool control, especially when working with thin sheets.

Presence of lift-arc ignition for repairing areas or sections that are highly sensitive to electronics such as steering and control systems.

It has electronic high-frequency ignition designed to guarantee faultless and contact-free ignition

Auto-pulse for efficient adjustment when performing pulse soldering. All the welder has to do is to set the pulse and current parameters.

S and CE Approval ratings for safe usage, class IP23S protection meaning it's meant for outdoors
The CastoTIG 1611 Advance is an exceptionally compact and portable TIG - MMA welding machine with a 160A—230V that can also be used with power generators.
2. XuperMIG 3000 PULSE
The new pulse and double pulse functions guarantee highest seam quality, in combination with reduced spatter and reduced workpiece distortion for all common materials. The XuperMIG 3000 PULSE contains over 90 welding curves («Synergic programs») for easy «one-button» setting of parameters for the most commonly used welding wires. Even special welding curves for optimised root, high-speed and dual pulse welding are included. XuperMIG 3000 PULSE is a universal welding equipment intended for use by the modern professional for MAG/MIG, MAG Pulse/MIG, TIG, MIG-brazing, and MMA.
The XuperMIG 3000 PULSE is ideal for all mobile applications thanks to its user-friendly operation, bold structure, and versatility.
Some other notable features include:
VRD function meant for manual electric repairing

MAG Pulse/MIG and Standard—TIG—E-Hand

Pole turner for gasless cored wires

300—A solid and lightweight

Special programs for dual-pulse, high-speed, and root soldering

An easy-to-use adjustable control panel with a programmable panel
3. XuperMIG EnDOtec-Edition
Last in our latest release of modern welding machines is the XuperMIG EnDOtec-Edition. These machines are suitable for steel construction, sheet metal fabrication, repair and maintenance. The XuperMIG EnDOtec-Edition are devices able to feed all kinds of wires: aluminum alloys, solid wires (stainless, mild steel, and alloy steel), cored wires for coating and joining in a broad range of diameters.
The Castolin Eutectic specialists have also included synergic pre-selection that enables the XuperMIG EnDOtec-Edition equipment to provide a wide array of welding programs for different materials. The pre-selection also works with varying gas and wire combinations.
Their top features include:
For water and gas-cooled torches

Made in Germany

Powerful performance

Robust and practical

Continuous regulation
It has never been easier to adjust a welding system to the constantly changing requirements of the welding industry, to add extra welding processes, welding programs and system upgrades.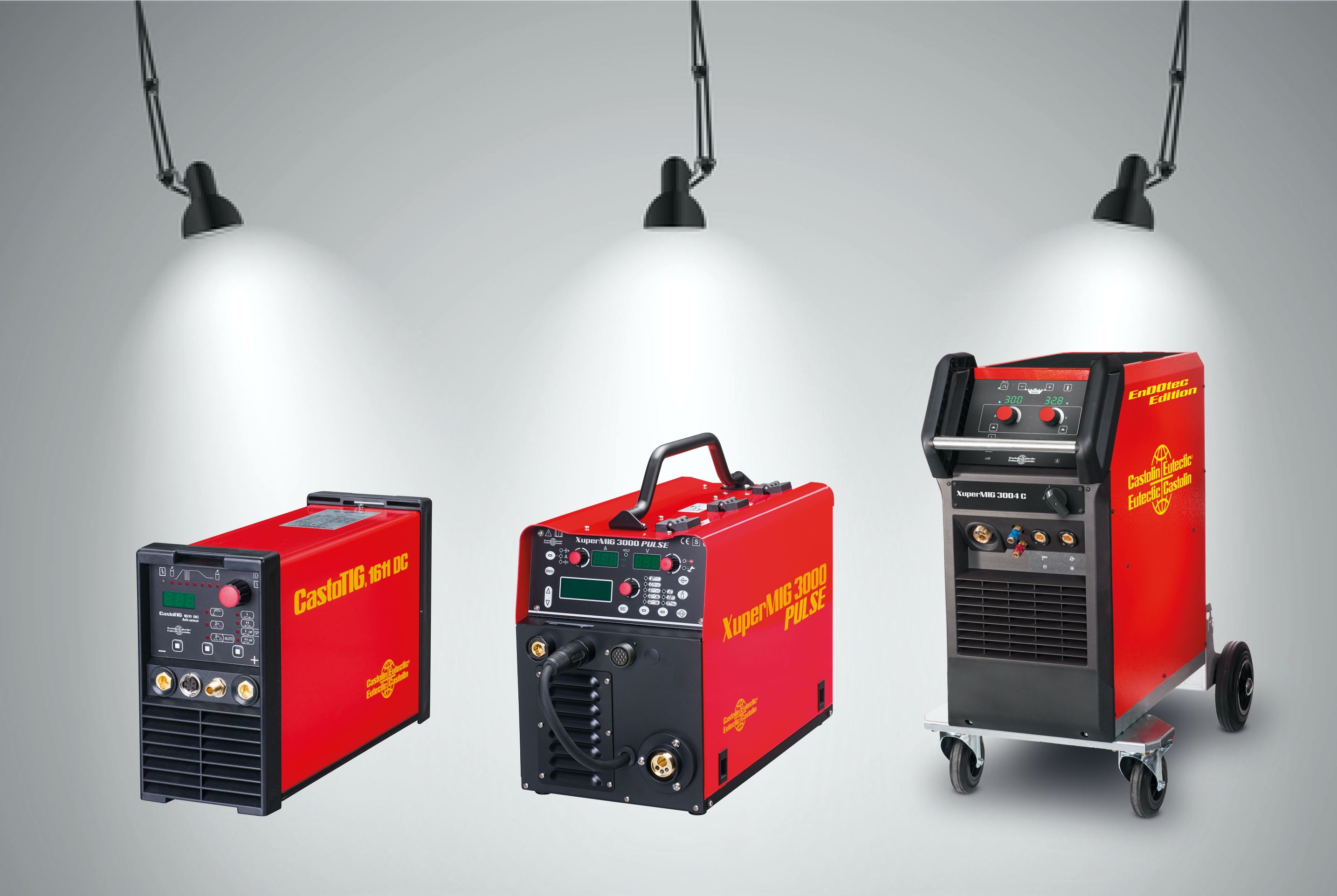 What's new in the Castolin Eutectic world?
Recent Posts