Choose a category
The rotor is the main part of the crusher, it provides the tightening of the beaters with help of the fixing elements. The mechanical welded disks are subject to abrasion due to the action of particles on the outer parts of the disk. A preventive coating is recommended on these parts as well as on the flanks.
ENHANCE OVERALL WEAR LIFE WITH CASTOCHROME CASTINGS
Wear Castings Applications 
Fixed Plant​
Mill feed & discharge chutes​

Transfer & load-out chutes​

Skip discharge chutes​

Surge bins and receiving hoppers​

Conveyor skirt liners​

Vibratory and grizzly feeders​

Apron & pan feeders​
​Mobile Plant:​
Dragline buckets​

Electric rope shovels​

Wheel loader buckets​

Dozer blades​

Truck boxes​
​​​​​​MINE-GRADE WEAR COMPOUNDS FOR ABRASION, EROSION AND CORROSION PROTECTION
Engineered Polymers to Repair, Rebuild & Protect
From repair and rebuild to corrosion resistant barrier coatings, MeCaTeC offers an industry-leading range of engineered polymers that will perform in the most demanding mining applications.  MeCaTeC is the ideal solution for quick surface and part repair.  It instantly bonds to the surface with no welding, becoming a sacrificial layer that provides abrasion and erosion protection.  Its cold bonding feature eliminates the need for a Hot Work Permit.​
​MeCaTeC is the ultimate protection layer for the demanding resurfacing requirements. Protect your assets with MeCaTeC!​
​Typical Applications include:​
Ceramic tile and rubber lining replacement  ​

Cyclones, chutes, bins and transfer points​

Pipe elbows and slurry pipes​

Slurry pumps​

Screw conveyors​

Bag house 
HIGH PERFORMANCE CRUSHER BACKING COMPOUNDS
MeCaBack Next-Gen Solution for Crusher Equipment Maintenance​
Crusher backing compounds are a cost-effective way to protect crushing machines from friction, vibration and wear. ​
​Our innovative line of crusher backing compounds is specifically designed to reinforce the liner, fill voids, reduce vibration and eliminate friction in rock crushing heavy machinery.  It is easily applied between both gyratory and cone crusher liners and the crusher body part.​
MeCaBack is an excellent choice of a crusher compound for mining, mineral processing and aggregate equipment including:​
Crushing machines​

Cone & stone crushers​

Grinding mill liners​

Backing plates​

Lock bushings​
PERFECT COMBINATION OF SAFETY, PERFORMANCE AND COST SAVINGS
Proprietary formula with Kevlar fiber interlocking technology ​

Engineered ceramic fillers to maximize wear performance​

Optimized packaging for faster mixing during shutdown repairs ​

Excellent alternative to replace ceramic tiles and rubber linings​

Rapid-cure formula ensures a quick return to service​

Easy to apply with trowel, brush, MeCaSpray gun, or airless spray​

On-site Technical Support with industry-leading expertise and application know-how
Discover other industries
Sharing our welding, brazing and coating know-how
Brochures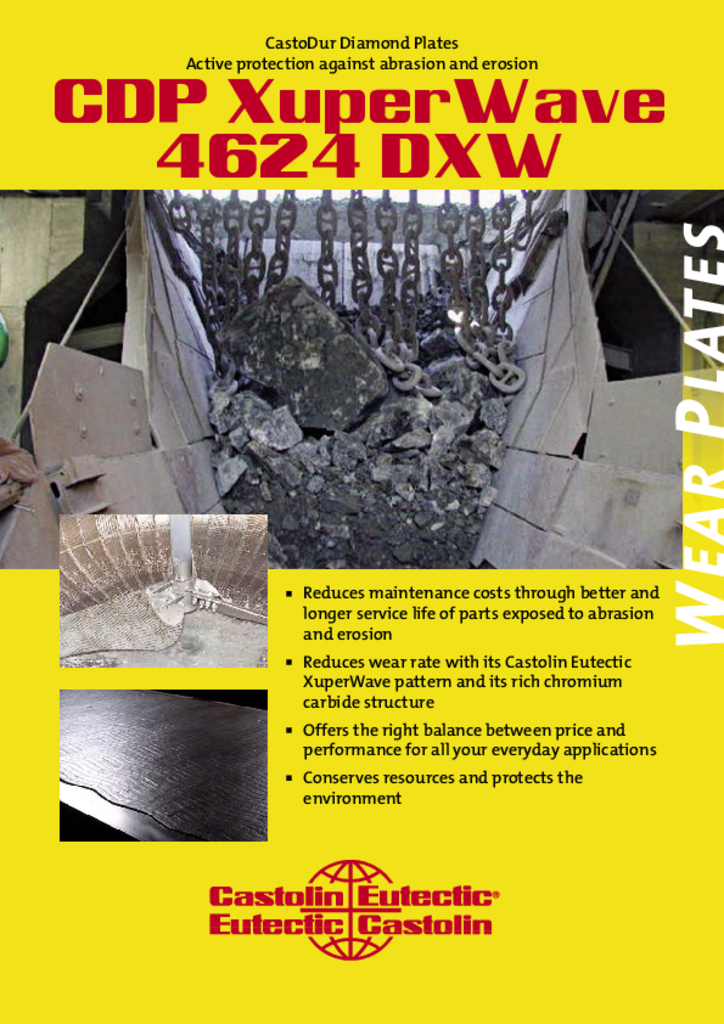 CDP® 4624
CDP® XuperWave 4624 DXW is the ideal wearplate for the application where the right balance between price and service life is required