Corporate
July 27, 2022
Castolin Eutectic, partner of the fire department
For the first time, the city of Flörsheim am Main honored companies and businesses as "Partners of the Fire Department" on July 22, 2022.
And Castolin Eutectic, represented by Berthold Jansen, Global Chief Human Resources Officer, was present at the ceremony!
Germany is a country in which fire protection is mainly provided by volunteers.
In the state of Hessen, for example, there are just 7 professional fire departments with around 2,000 members. The remaining ones, nevertheless more than 2,600 fire departments counting approximately 71,000 active members, are unpaid volunteers and honorary members!
That is, the members live with an alarm day and night. When the alarm goes off, they rush to the fire station, equip themselves and drive to the scene of the incident. There they provide valuable and urgently needed assistance to citizens and businesses affected by accidents, disasters, or natural catastrophes.
In Hessen, the so-called response time is 10 minutes. This means that no more than 10 minutes may elapse in urban areas from the time the emergency call is received until the first effective aid measures are initiated on-site. The goal is achieved in 95% of cases due to a comprehensive network of fire departments that are operational and ready for action.
In reality, companies are obliged by fire and disaster control laws of the federal states to release members of relief organizations for incidents. However, this does not always go smoothly. As a result, the so-called daily alarm readiness suffers and thus the response time, especially during the day.
In order to encourage companies to release their employees from duty without hesitation, the German Fire Brigade Association announced the award "Partner of the Fire Brigade". Castolin Eutectic supports this initiative. Our employee, Heiko Dörhöfer, has been a member of a volunteer fire department for over 30 years. "I have been working for Castolin Germany for 20 years and from the very beginning, I have been able to combine my voluntary work as a firefighter well with my job. In the event of an alarm, I am released for service to the common good promptly and in a completely uncomplicated manner. A conclusion which unfortunately not all my peers can draw!" says Heiko Dörhöfer.
In the context of a parliamentary evening organized by the city of Flörsheim am Main under the motto 'Honorary office meets politics', 12 different co-operation partners of the volunteer fire brigades were honored.
Berthold Jansen was happy to accept this award from Mayor Dr. Bernd Blisch and City Council Chairman Michael Kröhle. "We are very proud of this distinction. Voluntary commitment of our employees is very much supported by the Group. We have employees in our ranks who are not only involved in fire departments but also in social support, the Federal Agency for Technical Relief (THW), or refugee aid. This is part of our upright corporate social responsibility, and we encourage our employees who are not yet active to make a contribution to society."
"In the future, the award "Partner of the Fire Department" will adorn the entrance area of our global headquarters in Kriftel as a sign of recognition and solidarity," added Heiko Dörhöfer.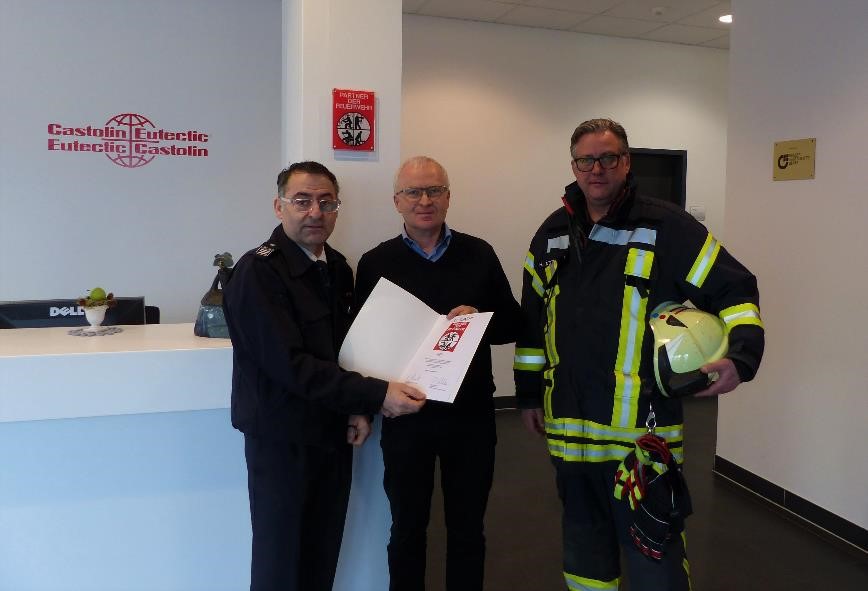 From left to right: Peer Eric Neugebauer (City Fire Inspector of the town Floersheim a.M.), Martin Kirchgassner (CEO of Castolin GmbH) and Heiko Dörhöfer (Employee of Castolin Eutectic and volunteer of the fire department).
What's new in the Castolin Eutectic world?
Recent Posts