Diverse
March 11, 2021
Castolin Eutectic and Biomasa de Cantabria support sustainable environmental management
We all know the 3 R's: Reduce, Reuse, Recycle. But we would like to add the 4th one: Repair.
In the waste recycling industry in Spain, Biomasa de Cantabria is well-known for the way it turns waste from pruning and forestry exploitation into sustainable energy, fulfilling the energy needs of 50.000 inhabitants. To do that, the company transports the biomass from the wood park to the plant by using a 12-meter auger feeder.
Most of the pruning the factory uses is of eucalyptus, which is very abrasive, causing severe wear on the transport screw from the auger feeder. However, the repair needs to be performed on-site, as replacing the part would put it out of service for too long and imply higher costs. 
The Castolin Eutectic solution? On-site repair with a TeroMatec alloy which allows for outdoor welding. This is a self-shielded cored wire with an excellent resistance to abrasion.


However, not only the spirals suffer from aggressive wear, but also the auger body. To coat it, our key application specialists employed MecaWear A5 HT. Usually, in the case of a long auger, it proves difficult to keep it under control, as the weight of the coating can overload the engine. Our solution embodies a great advantage: it involves cold application that does not lead to any dimensional deformation.
Our technical consultancy services resulted in an increased service life for the auger and a happy customer who now purchases Castolin Eutectic products at least twice a year for the repair of this auger.
The factory Biomasa de Cantabria belongs to the Armando Álvarez Group in Spain and is the only biomass project of its kind to participate in the Regional Energy Plan. With an investment of 40 million euros, the factory represents the creation of a new business model with a high added value and a considerable social impact, generating many lasting jobs in rural areas and a boost to sustainable environmental management in the mountains of Cantabria, Spain.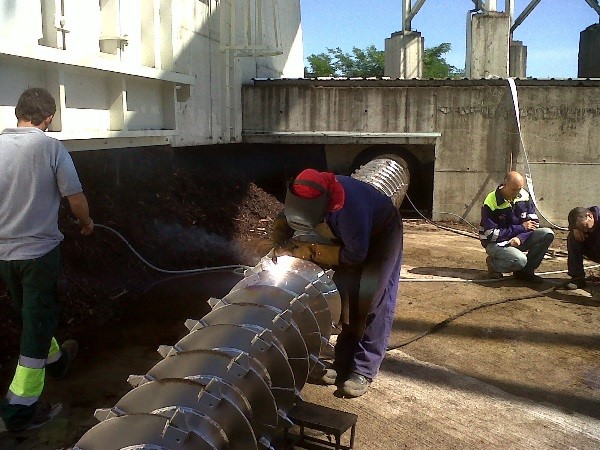 What's new in the Castolin Eutectic world?
Recent Posts